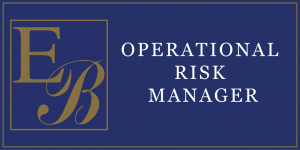 Purpose of Job
Operational Risk Management works with the business units and control groups to help ensure the Bank has a transparent, consistent and comprehensive programme for managing operational risk across the firm. This Operational Risk team designs, implements and monitors the firm-wide operational risk framework. This role will provide the leadership and direction for the Operational Risk team.
Responsibilities
Develop, Execute and Lead Strategy/Operations (70%)
Research and determine sources of risks within the bank's processes and business practices
Report potential vulnerabilities to senior management and propose solutions
Conduct snap audits across all sources of fraud risk
Ensure all actions from ORC and Board meetings are actioned upon in timely manner
Develop plans and designs for new risk processes and working with Risk Officers to implement
Provide forward thinking analysis of future Operational Risks
Lead the development of new policies and procedures to tackle emerging risks Implement tools related to operational risk management and work towards the goals of improved controls and lower risk.
Coordinate all the operational risk activities Manage all anti-fraud activities and programmes throughout the bank
Team Leader and Development (30%)
Drive enhancement to team performance and achievement of team goals
Conduct regular training for risk officers to ensure they are up to speed with latest developments in operational risk
Train staff on fraud detection and prevention techniques
Represent the operational risk department in a variety of high profile internal and external forums
Interaction with Others
Internal- regular contact with SM – R&C, CRO, Branch Managers, Senior Management and Auditors.
Skills
Excellent communication skills, both verbal and written; ability to produce concise and effective presentations
Strategic mind-set, with excellent knowledge and understanding of banking products and organisations;
Strong problem solving, analytical (including qualitative analysis), research, and quantitative skills
Qualities
Significant experience Risk, with fluency in Operational Risk;
Sound understanding of risk management principles
Strong project management and organization skills with the ability to multitask and prioritise; ability to work under pressure and to tight deadlines
Experience in management by influence, facilitating and gaining consensus
Proven track record of building strong relationships across business functions
Proven leadership qualities partnering with both 1st line of defence units and 2nd line of defence functions
Other
Carry out work in accordance with the banks procedures
Perform the assigned tasks with due diligence
Eliminate waste of whatever form, suggest the use of new practices and contribute to the continuous improvement of the bank