APM Terminals
APM Terminals operates a Global Terminal Network of 72 facilities and 20,600 employees in 69 countries. The company provides port management and operations to over 60 liner shipping customers who serve the world's leading importers and exporters of containerized cargo. In September 2009, APM Terminals was named "Port Operator of the Year" at the annual Lloyd's List Global Awards Gala. With world headquarters in The Hague, The Netherlands, the company helps to meet the constantly changing needs of the international trade community through high productivity operations and port capacity in economically, environmentally and socially responsible ways. Leveraging years of shipping experience and the strength of the A.P. Moller-Maersk Group, APM Terminals had over USD 3 billion in revenues in 2008 and invested USD 723 million in new ports and port projects, complementing 2007's investments of USD 850 million.
APM Terminals' goal is to become the port industry's leading operator. APM Terminals was established as a separate and independent division within the A.P. Moller- Maersk Group in 2001, moving its corporate offices from Copenhagen to The Hague. The company's history in terminal operations began half a century ago with a general cargo facility at the Port of New York in 1958. Its heritage includes the Port Authority of New York and New Jersey's very first dedicated container terminal and has grown along with the containerized shipping industry to become one of the largest terminal operators in the world.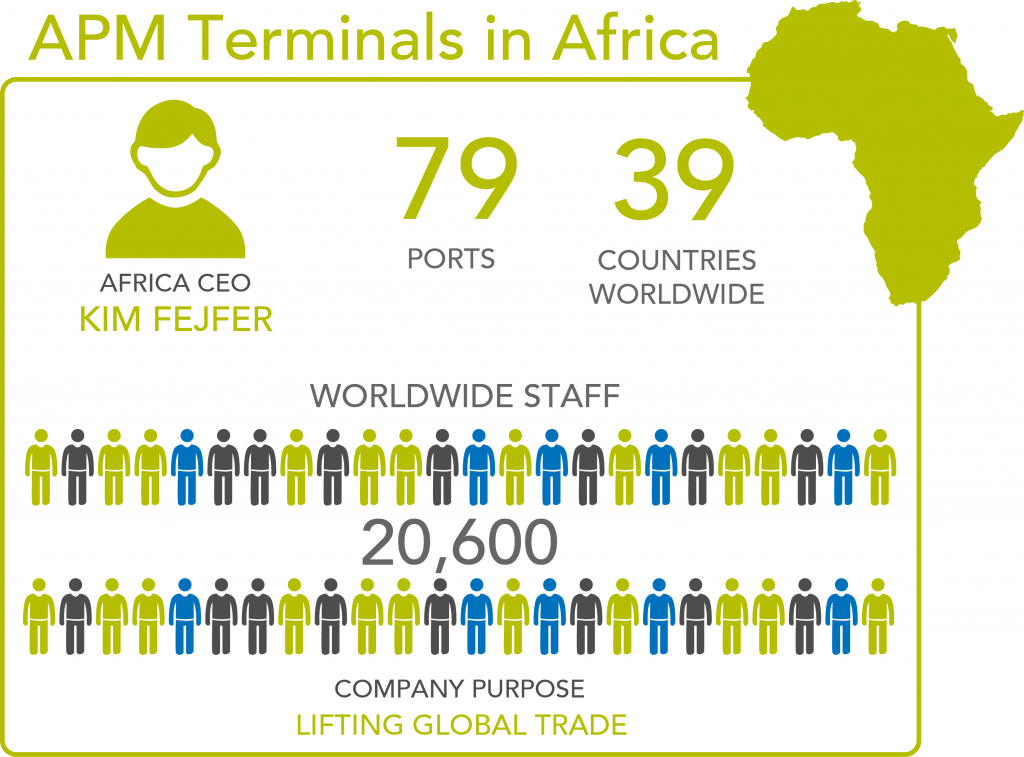 The Future
Even in today's uncertain economic environment, marine terminal infrastructure and investment remains essential to accommodate projected future trade volumes, particularly in emerging markets. This development must proceed in concert with environmental concerns as well as sensitivity to local, regional and national circumstances and needs. APM Terminals invested approximately three quarters of a billion USD in 2008 in terminal planning and construction, and is committed to making the ongoing investments in the facilities, technology, sustainable environmental action and highly trained personnel required to meet the demands of the container transportation industry with the world's only truly Global Terminal Network.
APM Terminals Apapa, Lagos Nigeria is the largest container terminal operator in West Africa.
APM Terminals commenced operations in Nigeria in March, 2006. Apapa is Nigeria's largest port and contains a number of wharfs. To date, the staff comprises over 700 highly skilled and motivated foreign and local staff. We stand for operational excellence – from modern equipment, facilities, advanced technology and proven processes and terminal management.