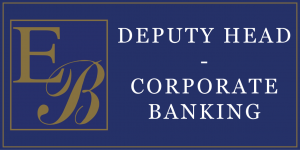 Responsibilities: 
Originate, maintain and develop relationships in the corporate market, focused within Tanzania
Manage a corporate liability & loan book within parameters provided by Risk Management / Management Board
Cross sell Structured Trade & Commodity Finance-, Treasury- and Payment products
Negotiate terms and conditions and coordinate with  Credit/legal for credit applications for new loan facilities for Corporate Banking clients
Manage the team of relationship managers for driving Current account business, with key focus on Fee line ( Forex, Trade, Cash management, TXN Banking) & achieve the desired level of Business& customer service
Identify various segments to capture for business growth on Current accounts/Fee line
Present and defend Corporate Banking credit applications in the Credit Committee
Provide regular credit reviews of Corporate Banking clients
Prepare and present certain Corporate Banking applications to Exim Bank
Review and authorize Corporate Banking credit applications from account managers prior to submission to Risk Management
Develop and maintain management reporting
MANAGEMENT RESPONSIBILITIES:
a)  Leadership:
Manage the Department efficiently so that performance goals and objectives are achieved
Coach and advise the Corporate Banking team
Identify and resolve any performance issues
Distribute and control the tasks to be performed by the employees in the Department
Communicate the strategy, plans and ideas to the departmental staff
Promote awareness and ensure adherence to all policies & procedures
b)  Vision
Formulate strategies for the future of his/her own field of work or organization of the department
Indicate market, sector and technological trends and developments for the coming years.
Propose and/or implement innovative ideas to enhance business results
Liaise with key operational functions to ensure client service delivery to agreed benchmarks
 Manage the formulation and implementation of key client service programs
Responsible for completing the goals set by the management
Responsible towards the Management Board for specific area of his/her business
Provide the Managing Board on a regular basis with relevant information pertaining to the organisation of Corporate Banking
Review and sign-off of departmental reporting
Lead projects
SPECIFIC JOB REQUIREMENTS
Further develop the internal structures for Corporate Banking within
Support the Board in contributing to the strategy for the future of  her/his own department and for the organization of the team
Prepare and maintain the annual departmental Budget
Cooperate with other Department Heads to obtain the best financial and commercial results for Exim
Develop and maintain procedures and work instructions
 Internalize and live the values, norms and behavioral codes of Exim
REQUIREMENTS: 
Holder of Degree in Banking or equivalent education.
MBA will be added advantage
At least 8-10 years of relevant experience in the sector
Sound understanding of all corporate products
 Willing to work in a small team and to take ownership
Excellent communication skills in English, both verbally and in writing
SKILLS & COMPETENCIES
Pro-active approach/self-starter
Accountability for targets/developments
People Manager, developing others/talent Management
 nterpersonal Effectiveness
Capable to work in a small team and to take ownership
Innovative
Assertive.