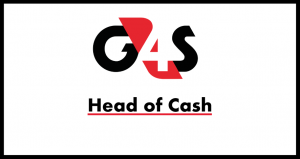 Head of Cash
Purpose:
To deliver PBITA and return on investment in accordance with agreed strategy and business plan
Adhering to brand values and being recognised as the leader in providing security solutions in the market in which the organisation operates.
To deliver high levels of customer service and ensure that security processes are applied consistently.
Accountabilities
To lead the development and implementation of a strategy for the Business Unit with clear performance targets, ensuring alignment with Company and Divisional strategic objectives.
To lead and drive the performance of the Business Unit, in accordance with G4S core values and ethics, enabling the Business Unit to achieve financial targets.
To develop, engage and lead a high performing and talented Executive Team who are able to achieve outstanding results throughout the Business Unit in their area of operation and contribute to the strategic development of the organisation.
To create an environment of outstanding quality and customer service throughout the organisation, developing and maintaining positive customer relationships and agreed quality and service standards to satisfy customer expectations.
Accountabilities
To create and lead a culture where the development of performance, potential and succession of people at all levels in the business is a key business priority, ensuring that expertise and capability is continually improved, and the Business Unit is recognised as an 'Employer of Choice'.  KPI to be achieved within 2 years.
To ensure that the Business Unit develops best practice security policies and practices which are applied consistently throughout the operation, ensuring that the Business Unit is not exposed to operational risk and in line with company policy.
To develop the Business Unit capability as cash solutions providers, building customer, competitor and market knowledge and expertise throughout the operation, to ensure the Business Unit can gain continual commercial benefit.
To create an environment of positive and favourable employee relations where change and business decisions can be introduced constructively and consistently
To actively build strong networks and influence with key decision makers in Government and Political circles and the Central Bank, ensuring that the organisation has positive relationships and is involved in policy decision making at the highest level.
Skills, Experience and Qualifications
Minimum Degree Level, ideally Masters Qualification. (MBA or MSc)
Fluent in English. Senior level experience and track record in customer facing multi site operation in a global/multi national environment, preferably in the service sector. 
Previous experience as Head of Cash
Potential to develop beyond this role
Strong leadership and customer service skills and ethos. Knowledge of the cash market.
Key leadership competencies and behavioural indicators ( all 8 G4S leadership competencies are relevant to head of cash)
Shaping the market environment – the capacity to influence others outside the organisation
Engaging & inspiring people –  the capacity to influence others to achieve objectives.
Focusing on the customer – the capacity to ensure outstanding service delivery for our customers.
Driving superior performance – the capacity to meet objectives through self and others.
Setting strategic direction – the capacity to set and communicate a clear sense of direction.