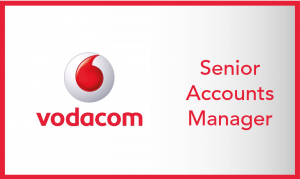 Role Purpose 
The Senior Account Manager will secure new business from their allocated customer list, derived from the strategic set of customers. The Senior Account Manager will need to successfully manage their current base whilst selling additional products and services into these customers.  The Senior Account Manager will be required to minimise churn and maximise revenues with revenue growth being a key performance indicator. The objective is to increase the business from a target list of customers. The Senior Account Manager will also retain and record any and all customer and market intelligence to increase future win opportunity regardless if tenders are successful or unsuccessful
Role Requirement
Responsible for managing strategic accounts  and delivering profitable, long termbusiness from those accounts
The Senior Account Managers will be responsible for managing their allocated accounts on a daily basis in their entirety to the extent that they:
Is the single point of contact for both the customer and Vodacom's internal third parties who may need to communicate and deliver solutions to the customer.
The Senior Account Manager is responsible for the entire "Customer Lifecycle Management" process, from "rumour to cash".
The Senior Account Manager is responsible for building the relationship with the customer and will be required, when appropriate, to build relationship with the client which may at times involve meeting with the customer after normal working hours.
Plan and develop relationships with allocated customers to identify opportunities and strategies to win new or further business from these customers.
Develop new and existing relationships, at all levels, with contacts from the allocated account list for customers.
Within allocated account base, effectively balance focus and time between suspects and prospects for continued development into winnable opportunities.
The Senior Account Manager will take responsibility for ensuring that all opportunities are qualified to the point where it becomes appropriate to introduce Vodacom subject matter experts to the opportunity, which has been assessed for having a high probability of succeeding.
Develop relevant High Level Value Propositions.
Identify winning strategies including working with the Line manager to take advantage of proposals, to win locally.
Ensures account plans signed off and agreed with Line manager.
Analyses statistical data related to clients business and industry to identify market trends for products and services.
Understand customer preferences, pricing, product, terms and conditions to ensure that their requirements are met; gather and analyse data regarding competitor pricing and products and ensure that Vodacom/Vodafone products and services fit customer requirements.
The Senior Account Manager is required to work with subject matter experts such as Solution Architects, ensuring that architectural roadmaps are developed to align with Account Plans.
Provide timely and accurate forecasting.
Revenue collection and managing debtor days within the accounts.
End to end P & L responsibility.
Lead and take active participation in solution sales teams, working with appropriate colleagues to win complex new business.
Complete and execute Account Plans for nominated accounts within the Sector to help deliver plans to develop High Value customer relationships to maximise profitability.
Ensures delivery of annual revenue targets through delivery of full product mix
Be responsible for modelling commercial propositions tailored to suit customers' requirements whilst supporting the Vodacom/ Vodafone commercial principles.
Manage deals through commercial governance, demonstrating win strategy, and future revenue growth plan and account development opportunities.
Work with Line Manager to Agree and recommend financial targets per account.
Understand the competitive market and use knowledge to increase margin and total contract value.
Look for opportunities to up-sell and cross-sell into allocated accounts.
To ensure that the A&R for these accounts are within the required target for Vodacom thus making the strategic segment P & L profitable.
Evaluates performance, risks in nominated accounts and revises plans where appropriate
Establishes appropriate relationships with customers in Vodacom and leverages those relationships to ensure maximum financial return from Vodacom customers
Create strong C level long term relationships using a high and wide approach to contact strategy.
Key interface to customer, responsible for developing executive contact strategy, providing strong one to one long term relationships with key decision makers/ influencers up to C Level. Prepare exec briefings and guiding local interactions.
Understand the customer's decision making process, building a strategy that considers stakeholder alignment and the goals of the stakeholders.
Develop a partnership approach to sales, customer fulfilment and post sales strategy for accounts covering all areas of the customers' business.
Work with the customer fulfilment and delivery plan to ensure services are delivered right first time.
Present new products and solutions set into account.
Strategic input for vertical.
Managing and monitoring the executive engagement programme.
Driving customer transformation journey & total communication partnership.
Managing client NPS.
Collaborates on the service relationship with Customers and Vodacom to agree service levels
Deliver best practice for On-Boarding of new customers.
Provide leadership for new products and services set to the nominated customer list.
Work diligently with Vodacom / Vodafone to ensure billing customer service centres are supporting the nominated accounts.
Engage and collaborate with the go-to-market team.
Management of virtual team that works within strategic accounts and/portfolio. These include, without limitations, DBAMS (where applicable), administrators & service teams.
Develop outstanding behaviour with customers within Vodacom / Vodafone using customer insight data and feedback to improve services.
Qualifications
Matric with a minimum of 8 years' experience in Account  Management
A 3 year commercial (BCom/Business Science, IT) Degree or Equivalent qualification will be an advantage.
OR
A 3 year commercial (BCom/Business Science, IT) Degree or Equivalent qualification  with 5 years' experience in  Account Management.
Education
Experience in solution sales and relationship management with a track record of solution selling
A broad understanding of the ICT Landscape and Strategic ICT enablers.
A thorough understanding of converged and networking technologies and services.
Demonstrated understanding of important financial concepts, the IT&T environments, purchasing practices and industry specific aspects of corporate customers.