HEINEKEN Ethiopia with its brands Walia, Bedele, Harar, Buckler, Walia Radler , Sofi  and Heineken is one of the leading brewers in Ethiopia and belongs to the HEINEKEN Group, which is the most international brewer in the world.
An international brand

The Heineken Company is famous worldwide for its brands, its people, its actions and mostly for its spirit. Heineken believes talent and ambition are not enough to succeed- we also need to be sociable and curious. We need to be explorers and adventurers, but most of all pioneers, who not only break new ground but leave their mark.
Our careers are journey paved with richness, accomplishments, and a few beers and ciders with friends or strangers along the way. And with more than 250 brands in 70 markets, there are endless opportunities to shoot for the top! HEINEKEN Ethiopia is a young and fast growing Company with job opportunities, mostly coming in Commerce and Supply Chain. We also provide job opportunities in our business support functions including Corporate Affairs, Finance, Legal, and Human Resource.
Why work at Heineken Ethiopia?
HEINEKEN's aim is to grow with Ethiopia, empowering its employees to be the best at what they do – every day! We will continue to excite our consumers and grow our brands to make them the most preferred in the country.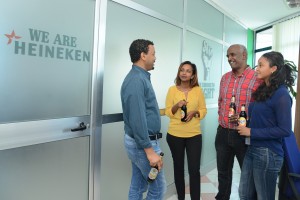 We love developing our people because we get energy from it ourselves. We are role models in terms of our behaviors and we are always ambassadors of our company.
We are committed to developing a culture that fosters a "Can Do" way of working , which is a key part of our behaviours