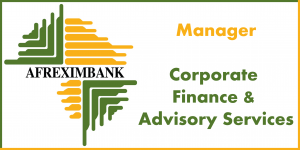 Vision & Purpose
The role is to help the Bank to achieve its mission "stimulating a consistent expansion of and diversification of African trade so as to rapidly increase Africa's share of global trade, while operating as a first class, profit oriented, socially responsible financial institution and a centre of excellence in African trade matters". This will be by supporting the process of ensuring that the Bank promotes the development of entrepreneurship in Africa as well as the development of its capital markets through the provision of required corporate finance and trade related deals structuring advice to clients in order to assist them in achieving optimality in their trade related operations.
Nature & Scope
The nature and scope of the job is to support the process providing appropriate Debt Capital Market services to support entrepreneurs and clients of the Bank engaged in trade, trade related projects as well as trade facilitating activities, on how best to structure their trade related business.
Duties and responsibilities
Assist in the creation of an environment through which Africa's access to international debt, FDI and portfolio investments flows can be enhanced, by providing corporate finance and advisory services, specifically Debt Capital Market (DCM) solutions, to clients who may require such advice;
Provide close support for origination and execution of DCM transactions across Africa, playing a strong role in the further development of the Afreximbank' s DCM franchise. 
Origination of DCM transactions with financial institutions, corporate entities, supra nationals, sub-nationals and related entities;
Identify leads and originate deals generally, in all categories: vanilla, equity linked and structured credit products;
Provide professional input  by participating in, and supporting activities that will help to develop a strong pipeline of DCM transactions opportunities  within the trade related mandate of the Bank;
Provide professional input  by participating in, and supporting activities that will help to develop innovative and appropriate financial structures for trade related DCM transactions for various clients, within the Bank's laid down risk management guidelines;
Participate in negotiations; use negotiation skills to overcome difficulties and finalize negotiations in ongoing DCM transactions;
Provide professional input  by participating in, and supporting activities that help to build and maintain strong relationships with clients, global and regional private businesses, banking and multilateral partners and government officials to further develop the corporate finance and advisory business of the Bank's business development activities, specifically as it relates to DCM;
Prepare financial models and conduct related industry and market research and Adhoc financial forecasting , analyses and modelling to support the investment advice process of the Bank;
Conduct financial analyses, reports and presentations to facilitate required business decisions and provide analytical support for all DCM transactions;
Prepare periodic reports for investor and other stakeholders, including all required performance tracking metrics;
Keep abreast of developments in corporate finance and investment  banking management; and
Any other duties as may be assigned to the jobholder by senior management.
Skills, Knowledge and Attitude
Bachelor and Master's Degree in Finance, Economics, Accounting, Business Administration or other disciplines relevant to the position. A relevant professional qualification e.g. CFA may be acceptable in lieu of a postgraduate degree;
Minimum of 8 years of related experience in the financial services or consulting industry and demonstrated knowledge and experience in DCM transactions;
Demonstrable experience in investment banking and advisory services  in Africa will be an added advantage;
Demonstrated aptitude for quantitative and qualitative analysis with a solid understanding of financial statements, financial modeling and company or industry analysis;
Advanced Excel skills and very strong financial modelling skills required;
Ability to follow-up independently and consistently and play the critical role as the project manager on most assignments and the primary capital markets contact;
Ability to immediately contribute to the group based on past experience and help to transfer best practices and knowledge
Self-starting team player who can think strategically and excel in a fast-paced, entrepreneurial, challenging work environment
Ability to communicate and function in a culturally diverse and change oriented setting with good knowledge of banking practices in Africa;
Ability to interact with senior officials of banks, regulators, corporates and governments;
Excellent verbal and written communication skills in English. Knowledge of  the Bank's other working languages is an added advantage (French, Arabic and Portuguese); and
Demonstrated leadership capabilities, including ability to organize and manage human resources from varied cultural backgrounds to attain goals.