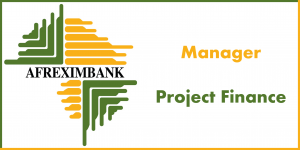 Vision & Purpose
The role is supposed to help the Bank achieve its mission "stimulating a consistent expansion of and diversification of African trade so as to rapidly increase Africa's share of global trade, while operating as a first class, profit oriented, socially responsible financial institution and a centre of excellence in African trade matters" by finding and developing opportunities for business development in project and export development finance across all member states and participating states.
Nature & scope
The role of the position holder will be to participate in drawing up annual business development plans in Project and Export development finance and to implement these plans with support from the Head of Project & Export Development Finance and the Senior Manager Export Development Programme.
Duties and responsibilities
Originating and completing Project and export development finance transactions across a spectrum of sectors in different countries in liaison with the branch teams and with support from the Head of Project and Export Development Finance and the Senior Manager Export Development Programme;
Integrating the export development programme to support Project and Export Development financing across a spectrum of sectors in different countries.
Structuring projects, developing and negotiating term sheets to execution;
Participate in the preparation of annual business development plans, covering all aspects of project related financing;
Translate business development plans into real business for the Bank from all segments of the project financing market e.g.
Project related financing;
Export development programme;
Carbon financing etc…
Developing, marketing and managing product programmes such as  the Export Development Programme (EDP); CONMED  and CONTOUR;
Design schemes and road-shows for establishing market presence with emphasis on broadening the geographic scope of the Bank's activities;
Manage given portfolios, from the process of origination, credit approval and contracting to ensure that the process is finalised within optimal time;
Supporting the credit department with relevant  information to facilitate the credit process and the legal department in the facilitation of transaction documentation;
In line with the above, liaise with the Banking Operations department to ensure that once approval is obtained, disbursement is done within the required timelines and that the portfolio is managed according to the terms of the agreement and to the client's satisfaction, until expiry of the same;
Establishing ties with market participants including international banks, African financial institutions, (project finance intermediaries),  project sponsors and developers, corporates and commodity boards and organizations;
Any other duties as may be assigned by senior management.
Skills, Knowledge and Attitude
Post graduate degree in Business Administration, Banking or Finance from a recognized University or a professional qualification in Banking or International Trade Finance;
Sound experience of at least 8 years with a leading organisation and familiarity with the major trade and project finance products to be offered to clients especially syndication, co-financing, club deals, correspondent banking products including letters of credit, factoring, forfaiting, structured trade finance, carbon financing, corporate finance risk participations, project-related financing and considerable knowledge of how these work;
Ability to communicate and function in a culturally diverse and change oriented setting and therefore knowledge of the workings of the main segments of the trade finance markets and the participants in major regions of Africa;
Ability to meet senior officials of banks, corporates and governments and win their confidence that the specialist's products will meet the needs of these parties;
Excellent verbal and written communication skills in English. Knowledge of  the Bank's other working languages is an added advantage
Proven experience in marketing trade and project finance products.  The candidate must demonstrate experience and knowledge of designing and selling structured trade finance products;
Willingness to travel extensively and to work long hours where required in order to achieve the Bank's objectives;
Demonstrated leadership capabilities, including ability to organize and manage human resources to attain goals.