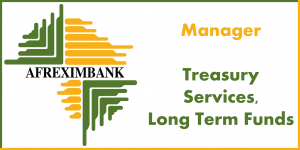 Vision & Purpose
The role is to help the Bank to achieve its mission "stimulating a consistent expansion of and diversification of African trade so as to rapidly increase Africa's share of global trade, while operating as a first class, profit oriented, socially responsible financial institution and a centre of excellence in African trade matters". This will be by implementing optimally the bank long term funding strategy at a minimum cost and by managing our relationship with investors and Long-Term creditors by providing them with the appropriate information.
Nature & Scope
The nature and scope of the job is to support the funding process of the bank whilst ensuring that risk is mitigated at all times by maintaining strong relationships with our investors, depositors and creditors while providing them with all necessary reports and information they will need but also by seeking and being a strong support in any initiative taken to adopt new funding institution (Equity and Debt).
Duties and responsibilities
Liquidity Management Strategy, Analysis, Planning and Funding Execution
Reporting and Debt Covenant Management
Investor relationship management
Contingency Funding Plan Management
Pricing Management
Treasury Risk Management
Treasury Projects Initiatives
Other duties as may be assigned to jobholder by the senior management
Skills, Knowledge and Attitude
A Bachelor's degree from a leading University in either Finance, Economics, Accounting, Business Administration or other disciplines relevant to the position plus a post graduate degree in a relevant field/or a professional qualification in lieu;
Relevant experience of at least 8 years, which may be acceptable in lieu of a  post graduate degree as a minimum;
Demonstrated knowledge and experience of relevant treasury experience in the African environment;
Ability to make decision in a moving environment like international capital market and to negotiate with counterparties.
Good Excel skills and very strong financial modeling skills required;
Ability to communicate and function in a culturally diverse and change oriented setting with good knowledge of banking practices in Africa;
Ability to interact with senior officials of banks, corporates and governments;
Excellent verbal and written communication skills in English. Knowledge of  the Bank's other working languages is an added advantage (French, Arabic and Portuguese); and
Demonstrated leadership capabilities, including ability to organize and manage human resources from varied cultural backgrounds to attain goals.