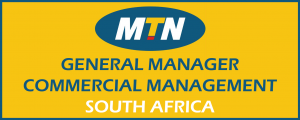 Responsibilities
Strategy Development
Lead the formulation of the MTN Digital Commercial Management strategy in line with the overarching business goals and ensure that MTN maintains and improves its leadership positioning
Ensure  effective implementation of the strategy by means of providing direction, structure, frameworks,  models, plans and roadmaps to be adopted by the Opcos
Define the standards and set targets for performance across various activities and identify the parameters for measurement of performance.
Lead the development of the digital communication and Media strategies
Provide strategic direction for life cycle and management strategy 
Staff Leadership and Management
Build and manage a high performing team by providing leadership, role clarity, training and career development;
Source, induct and manage talent in accordance with legislative guidelines;
Ensure open communication channels with staff and implement change management interventions where necessary;
Provide definition of roles, responsibilities, individual goals and performance objectives for the team;
Set KPIs and provide regular performance feedback through a well-defined and implemented performance review program;
Develop and implement a training plan in order to build and develop skills within the team;
Encourage knowledge transfer through the implementation of a knowledge transfer plan and drive continuous improvement philosophy through the knowledge transfer plan;
Performance manage resources in accordance with HR policy and legislation where necessary;
Actively participate in leadership team and develop skills of own team; and
Promote a 'MTN centric' and 'partnership approach' to develop strong relationships with other working groups and ensure adherence to Group governance.  
Governance
Strategic Meetings
Hold strategic meetings, ensure relevant participation and provide guidance and support in the various discussions;
Drive enterprise wide transformation initiatives, elicit inputs from relevant parties;
Drive adequate risk mitigation and controls, and elicit inputs from relevant parties;
Sign off approval on new initiatives;
Provide relevant budget for internal projects; and
Prepare proposal on change initiatives, SLA policies and procedures.
Escalations
Manage and resolve issues that will result in severe time, scope, productivity and cost or resource impact; and
Resolve and provide guidance to issues escalated.
Tactical
Manage all projects and initiatives;
Review key risks, issues and dependencies and set mitigation actions; and
Sign-off / make decisions regarding tactical changes.
Performance
Monitor performance and alignment with MTN global strategy and per industry best practices;
Review performance against agreed Key Performance Indicators (KPIs) and review service level agreements;
Identify opportunities for improvement and collaborate with respective OPCOs and teams to agree on corrective actions;
Ensure provision of appropriate support to consumer functions; and
Create and monitor plan for continuous improvement and monitor adherence to the plans
Reporting
Report on a monthly basis to Group Chief Digital Officer relating to progress made within the division and in accordance with the measurement metrics set by the organisation;
Highlight to the management significant deviations from defined performance metrics; and
Report on an adhoc basis on specific projects, as required. 
Budgets
Develop and manage of divisional budgets in line with business objectives;
Develop and manage project initiative budgets in line with business objectives; and
Ensure that the "cost of operations" is reduced, in line with a least cost operating strategy stemming from the business drivers.
Operational Delivery
Content Acquisition:
Oversee the buying regulations across the geographies
Define Content Acquisition policies, processes and procedures
Ensure contracts are compliant and adhered to by both parties
Ensure the management of the group framework agreements
Oversee and ensure compliance to legal and regulatory frameworks
Ensure risks are mitigated
Go-to-Market:
Oversee the development of the GTM strategy for Group and its adoption in the Opcos
Ensure programmes are developed to take digital products/services to market across all Opcos
Lead and oversee the development of the value proposition strategy to ensure the right customers are targeted appropriately in the right geographies
Ensure products/services that are launched into the market are monitored both at a Group and Opco level
Ensure Digital products/services information on advertisements, FAQs, etc. is signed off by Go-to-Market Manager
Ensure improved digital business positioning
Partnerships:
Oversee the development of the partnership strategy to ensure MTN Digital enters into revenue shares with partners who are suited to launch their products/services on MTN's SDP
Ensure partners are assisted in taking their products to market
Ensure relationships with partners are maintained and contracts are adhered to
Oversee the development of partner marketing developments
Ensure strategic partnerships are created and maintained and review partnership verticals and horizontals
Ensure the setting up and monetization of strategic verticals through global partnerships, joint ventures, funding partners, local partners and sales channels (financial services)
Business Intelligence:
Oversee the monitoring of Digital products/services and ensure targets are met
Ensure the strategic objectives of BI are consistent with the overall strategy and in line with the market needs and requirements and that Opcos align to Group BI requirements
Endure deep analysis conducted at a Group and Opco level into all aspects of Digital, including but not limited to performance, trends and competitors, and ensure that areas to be developed further in Digital are highlighted
Ensure BI data appropriately supports the business planning process by providing necessary information and modelling
Pricing:
Oversee the development of the Digital price plan for Group and ensure alignment to the overall group strategy and ensure local conditions are considered in the roll out and implementation in the Opcos
Review and approve long term pricing forecasts and predictions (2 – 5 years)
Ensure the analysis of competitor price plans and pricing strategies
Ensure cost saving is factored into the pricing plan
Ensure overall Digital P&L growth across Opcos
Review and sign off on promotions pricing
Oversee and ensure commercial and budget planning
Ensure the increase the P&L results from Financial Services, e-commerce, lifestyle and media & entertainment
Manage and monitor the end-to-end operations of the online sales channels, online channel profitability and maximise Average Revenue per User (ARPU) from all online sales from both new and existing customers in order to ensure alignment with MTN overall sales plans 
Education and Experience
Education / Business Degree 
Minimum of 4 year tertiary qualification
MBA or Masters advantageous
Fluent in English and language of country preferable
Work Experience  
Senior management track record of 5 enterprise
Understanding emerging markets advantageous
Worked across diverse cultures and geographies
Contracts management 
Skills
Attitude of Innovation, inventiveness & thought leadership
Global mind-set to service worldwide operations
Pan Africa multi-cultural experience
Telecommunications industry experience
Willing and flexible to travel within Africa and Middle East
Fluent in English
Worked across diverse cultures and geographies
Knowledge 
Complex and matrix structures
Consumer Insight best practices and trends
Decision making processes
Entrepreneurial approaches
Financial / Numeracy
Global considerations 
Operational management
Global sponsorships and campaigns
Pan Africa multi-cultural organisation
Project management
Telecommunications industries