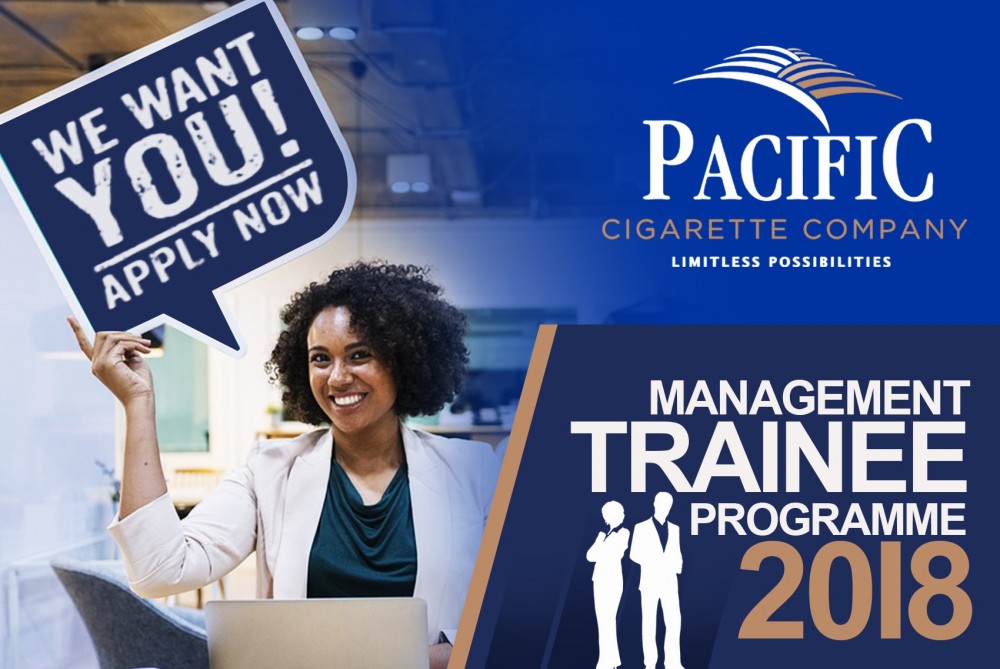 We are a global business looking to discover limitless possibilities and to achieve this, WE NEED YOU! In just two years, we give you the skills, experience and commercial insight to become the next future leader at Pacific Cigarette Company. 
Are you: 
A proud holder of a second class upper degree (Bachelor or master's degree)
An ambitious and exceptional achiever with no more than 2 years' working experience
A problem solving leader with excellent communication skills, to learn and grow
Proficient in both spoken & written English and French or  Portuguese
Global Management Trainee Program Overview
At Pacific Cigarette Company, we believe in investing in our future leaders today. The Management Trainee program is an intensive 18 month rotational training program which attracts the brightest, most driven graduates and nurtures their talent by giving relevant experiences right from the start.
Our goal is to find people who can take on challenging positions early on in their career and who have the potential to become our future leaders. We achieve this by putting the trainees through an intensive cross functional training program before their first role, where they will gain insight into every aspect of the business.
Management Trainee Program Details:
2 – 3 weeks of induction training on the company's culture, strategy and structure. In this phase, you will get exposure to our CEO, Global Chiefs and the Executive Committee. You will also be immersed into the trade to gain a first-hand understanding of our business
Hands on, in-field training (deep dives) in our marketing, supply chain, operations, country management, finance and HR across various locations. You will develop an understanding of the "real life" of the business by shadowing people who perform the job, from all levels.
Training on the different departmental strategies at the Headquarters, as well as leadership training.
Individual Assignment leading a process improvement project in operations, supply chain, marketing,  country management, finance or human resources. You will receive clear deliverables and will be given feedback on your performance.
Exposure to senior leaders throughout the training period.
Upon successful completion of the rotational program, you will take on an entry-level management position in any function depending on your profile, interest and result. You will also receive a mentor from the executive team when you start in your first position.
After 12-18 months, if you perform well, we expect you to be ready to take on your next challenge in a more senior management role in any functional area.