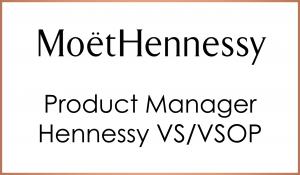 Within our agent, the Product Manager Hennessy VS/VSOP is responsible for developing and executing the brand plans and marketing programs for Hennessy VS/VSOP, adhering to global guidelines and ensuring brand objectives are achieved. 
Responsibilities
Developing and implementing annual brand plans in accordance with Maisons global strategies
Establishing good working relationship with Maisons and developing strong customer and sales relationships
Providing clear consumer insights (consumer needs, segmentation and value proposition)
Creating value by building brand equity with the consumer targets, whilst creating below the line tools to achieve sales objectives
Agreeing objectives with sales team, jointly developing marketing and brand plans for channels and key accounts
Building and activating the respective brands in the trade (planning and executing tailored events, promotions)
Developing and implementing activities to recruit new consumers in close cooperation with sales teams
Managing and controlling Brands budgets (A&P, POS, FTT) and promotions to ensure optimal allocation of expenditure
Monitoring and evaluating key programs with recommendations for future action
Managing local advertising creative development and ensuring optimum media schedules
Leading local promotional development (objective setting, implementation and post-evaluation)
Developing PR plans, setting objectives and ensuring post evaluation
Ensuring that local PR activities and messages are in line with brands strategies
Acting as a Brand ambassador internally and externally: Sales Force, Trade, Consumers, Public Relations Agencies, Press, etc.
Managing individual T&E budget in the most professional manner and operating at all time with high level of integrity
Education
Degree level. Full driving licence.
Experience
Previous experience in Marketing/Brand Management in the drinks of consumer goods industry. Passion for lifestyle & luxury Brands, drinks industry knowledge is a plus but not essential.
Skills
Budget management experience/ease with figures
Office pack (Powerpoint, Excel, Word…)
English fluent, French is a plus
Integrity & Trust
Creative thinker
Open minded
Positive and enthusiastic attitude
Strong team player
Excellent interpersonal and communication skills within and outside the organisation
Strong focus on delivering results / demonstrating perseverance
Able to deal with ambiguity / change and prioritise
Strong organizational skills & attention to detail
Project Management
Numeric and commercially aware
Presentation skills