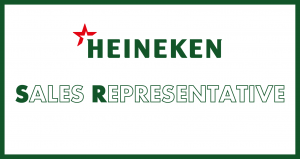 Key Responsibilities
Key Accountabilities
• The job will be accountable for the execution of the following tasks:
• Routine problem solving visits to all distributors within his assigned territory.
• Direct sales of Heineken Breweries SC (all SKUs) to registered distributors within his assigned territory. It is the responsibility of the sales rep to ensure that the distributor in his coverage area achieve the agreed weekly/monthly/annual target. 
• Report through the Sales Supervisor to HQ sales office distributors daily full & empty crates inventory. (RPM Movement) 
• Processing and batching of distributors orders to the Breweries.
• Developing mutually effective/ cordial relationship with all distributors within his territory. 
• Execution of all approved schemes designed to ensure adequate push of our products to the direct trade.
• Proper maintenance and safety of all company property assigned to him.
• Participation in Regional Sales Unit meetings as the need arises.
Key Accountabilities / Responsibilities – Customers / Retailers
• Achieve the sales volumes objectives for his area of competency. The objectives are defined by brand and SKU and by customer category.
• Reaching the objectives in term of sales volume is the primary objective of the Sales Representative. This can be achieved through pre-sale to assist the distributor.
• Increase the number of Heineken Breweries POS in his area by prospecting actively and finding new POS. Prepare Commercial proposition for the new prospects.
• Ensure that the whole Heineken Breweries portfolio is sold in all the POS of the area.
• Follow the weekly visit planning defined by the Sales Supervisor and visit every day all outlets included in the planning. During the retail outlet visit the Sales Representative fill up with the maximum accuracy and completeness the outlet call card of the outlet.
• Check the stock of Heineken Breweries products inside visited outlets, ensure that the required stock for the visited outlet is present, advise the outlet and take any action to maintain the stock inside the outlet at the required level.
• Check the level of availability inside the fridges of the outlets, secure that the fridge planogram is respected, and that the products are correctly positioned. Take any corrective action. 
• Select outlets, negotiate at the retail outlet via different visibility and POS materials (banners, light boxes, posters, etc) based on a specific target in a designated area. Propose and Implement promotions with trade marketing. Follow up the 
• implementation in coordination with the designed EOE.
• Check the optimal placement of the visibility material placed outside and inside the outlet. Take any corrective action requested.
• Implement the promotions decided and in coordination with Trade Marketing. Propose to Trade Marketing promotional activities and select the most adapted POS for the promotional activities. 
• Effective use of the sales tools provided by Commercial services and Routine daily/ weekly/ periodic reports on developments within his territory (Distributor/outlet) including relevant competitive information to aid management decisions.
• Maintain very good relationship with all the customers and his personnel. Take appropriate actions to make Heineken Breweries the preferred supplier of the retail outlet.
• All ad-hoc assignments as the need may arise.
3. Job Requirements
3.1. Education
• Minimum 2 Year Diploma
• Maximum 4 years degree (BSc or BA Degree)
3.2. Experience
• Experience in FMCG will be an added advantage
Leadership/ Behavioral Competencies 
Vision  
Independence  
Creativity  
Problem analysis  
Judgment  
Organizational sensitivity  
Market orientation  
Networking  
Initiative  
Functional Competencies 
Customer Insight X  
Category, Portfolio and Brand understanding 
Channel, Shopper and On-Trade Consumer Understanding 
Route to Market Strategy 
Route to Market Profitability 
Customer Management   
Key Customer Planning 
Sales Organization and Performance Management 
Distributor Management
Commercial Asset Management 
Selling and Negotiation  
Excellence in Execution 
Languages
Amharic, English and other local language (Preferred)