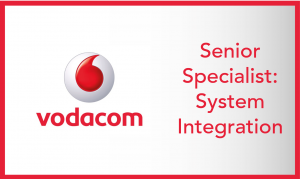 Key Accountabilities
Perform role of interface between customer, commercial and technical entities by translating between business requirements and technical specifications.
Perform the role of technical advisor to the Presales Consultants / Solution Architects, for complex technical solutions. Assist in responding to RFX's and customer proposals. This support is provided to sales and presales colleagues when analysing complex customer requirements and in determining the low level technical solutions.
Provide a solution focused low level technical consultancy service to clients e.g. blue chip companies, SMEs, local, provincial and national government. Assist the Sales team and Solution Architect with presenting low technical designs at the customers' premises.
Vets technical proposals by Presales Consultants / Solution Architects to ensure that solution designs are sound and implementable.
Provide support and guidance to the implementation teams for the integration of complex solutions. The System Integrator assists the Presales consultant / Solution Architect in translating the high level design proposal to a low level technical document that guides the provision teams on the integration and implementation of the solution.
System Integration is the custodian of the Customer Specific Solution (CSS) function and engages the relevant stakeholders within Vodacom to determine the technical feasibility of the non-standard solutions.  For solutions that are feasible the System Integrator provides a low level technical document detailing the integration aspects of the solution. The System Integrator provides technical guidance during the implementation of the CSS. Oversees the CSS from initial request up until implementation
Identify opportunities within client environments for solutions or new product development. Regularly meet with the internal parties; e.g. Products and Engineering teams; as well as external parties; e.g. suppliers and partners; in order to understand internal and external roadmaps, technology strategies and product strategies.
Conduct research on and keep abreast of ICT trends to identify new product opportunities. Utilise solution design experience and expertise to provide input into and create architecture for new product development.
Job Knowledge:
In depth technical knowledge of converged solutions design. Competent in WAN / LAN / Unified Communications / Mobile Solutions/ Fixed to Mobile Converged Solutions / Hosting designs.
Knowledge of solution integration and implementation in the converged solutions space.
Cross Domain Technology Architecture knowledge coupled with implementation experience.
Job Related Skills:
Technical writing skills.
Good Interpersonal skills.
Persuasion skills.
Attention to detail.
Research skills.