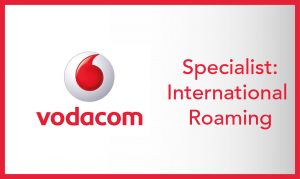 Role Purpose
 The Specialist will be responsible for the following; ensuring the full integration and testing of new Roaming Networks, will also be responsible for supporting and seamless clearing of all reported subscriber faults related to international roaming
Role Requirement
1st Line support for all international roaming subscriber problems.
8620 Roaming Tester
Assist International Roaming Subscribers/International SMS
Auditing of MSC/STP Roaming database – once every quarter
Conducted research on roaming enhancements.
Ensure implementation of MSC/STP database configurations and software changes with new Roaming Networks.
High level support for all international roaming subscriber problems. High level support for roaming departments within the Vodacom environment
International SMS/SMS Applications support.
Perform IREQ tests according to GSM IR24 documentation and Roaming tests according to IRP test documentation.
Updating of GSM IR24 documentation.
Job Specific Requirements 
Understanding of the telecommunications landscape
Understanding of customer requirements
Team dynamics
Understanding of business landscape
Understanding of the Value Chain Analysis with regards to various customer businesses.
Understanding of technical concepts and the ability to communicate it as viable appealing market offerings
Job Knowledge:
A good knowledge of the GSM network. 
International Roaming background would be an advantage. 
Roaming Tester Functionality. 
GSM MSC database configuration.
 Job Related Skills:
GSM network. 
Policies and procedures. 
Signalling – Protocols. 
Switching Configuration. 
Fault Management. 
Computer applications. 
Problem Solving & Analysis skills. 
Interpersonal. 
Decision making. 
Multi Tasking. 
Stress Management. 
Analytical thinking
Qualifications
Matric with a 3 Year degree or diploma in IT or engineering related fields or/and N6/T3/S4 *essential*
3 years or more experience in GSM support environment, particularly the Telephony Switching SSS operational environment is essential. 
Proven sound practical GSM EWSD SSS Network database experience is a prerequisite. 
Computer literacy is essential. 
Experience in office administration is preferred.
Proven sound Customer Relations Experience is preferred.