Africa's Talent Pool Speaks at Inaugural Careers in Africa Employer of Choice Awards
Multinational and Regional companies among outstanding employers across Africa recognised for their performance in continent-wide employer attractiveness report.
South Africa 19 November 2015 – The results of the inaugural Careers in Africa Employer of Choice Study, in association with Towers Watson, drawn from more than 13,000 survey responses by African professionals representing every market on the continent, have been revealed.
At the 2015 Careers in Africa Employer of Choice Awards gala dinner, prizes were awarded in 21 categories across all sectors and human capital themes, with winners determined by calculating ratings from professionals across the spectrum of attraction drivers. Driven entirely by survey data, these Awards are a uniquely credible barometer of employer attractiveness.
The awards dinner was a great success, with 150 senior HR professionals coming together to celebrate the successes of African business, and African talent, following a day of excellent debate at the Careers in Africa HR Conference 2015. The Marimba band, supported through the programme of Education Africa, opened the evening, playing traditional African music for the audience.
The overall Careers in Africa Employer of Choice for 2015 is P&G, who were also successful in the FMCG category, seeing off strong competition from East African Breweries in both.
Rupert Adcock, Managing Director of the Global Career Company, said of the Award "
In the Study behind the Awards, Global Career Company with support from professional services company Towers Watson, found significant difference in the key drivers influencing individuals within the African talent pool, compared to global figures.
You can view the Top 100 companies that African Professionals voted as the most desirable employer here.
Pay, job security and career advancement are the usual top factors for individuals when considering a new role across the globe according to previous Towers Watson research[1], however for the African workforce the opportunity to learn new skills and the ability to make an impact dominate. Base pay is of particular interest, on a global level it is the top driver but for the African talent pool only 48% of respondents cited its critical importance, placing it as 11th most important factor to this group.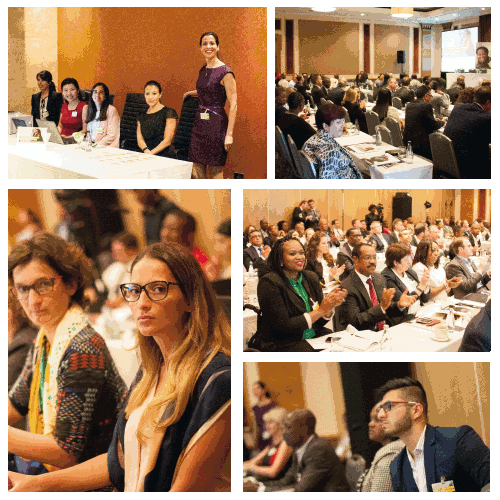 Yves Duhaldeborde, Director at Towers Watson comments: "This research adds a great deal to the debate on how we compensate workers in Africa. It's clear that unlike many developed economies base pay isn't an important driver and employers need to look at how to incentivise their workforce through initiatives that encourage new skills and promote opportunities to make a difference to the organisation. "
These findings are echoed across the African diaspora community, suggesting the important factors African employers must consider, to attract individuals back to country of birth once they have left to work overseas.
Rupert Adcock comments "An increasing number of African employers are looking to the diaspora to help close the talent gap and provide a source of internationally experienced professionals. A key concern, alongside cultural fit is whether expectations of the diaspora particularly in terms of pay, benefits and speed of promotion, can be matched. However the research clearly shows that such factors are not of central importance to this group."
The report which was launched at "Careers in Africa Johannesburg", the continent's largest HR and recruitment summit, is the first of its kind covering a Pan-African talent pool of over 13,000 respondents across 54 markets.
Rupert Adcock, Managing Director of the Global Career Company, which is hosting the event, said that: "While the list of nominees for these inaugural Careers in Africa Employer of Choice Awards may get people talking, it is the lessons to be taken forward from the Employer of Choice Study as a whole that will make the lasting impact on the African talent landscape, as the best adapt to get better and those who do not make it this time strive to catch up."
The runners up and winners in each category were:
| | | |
| --- | --- | --- |
| Award | Winner | Runner Up |
| Employer of Choice | P & G | East African Breweries |
| Global Attractiveness | Unilever | Shell |
| Local Attractiveness | Ethiopian Airways | Seadrill |
| Pan-African Attractiveness | Unilever | KPMG |
| Corporate Social Responsibility | Safaricom | East African Breweries |
| Development | McKinsey & Company | P & G |
| Leadership & Management | Safaricom | East African Breweries |
| Reward | Total | P & G |
|   | Sector Awards |   |
| Aviation, Shipping and Logistics | Ethiopian Airways | Arik Air |
| Banking | FNB | J.P. Morgan |
| Construction, Heavy Manufacturing and Infrastructure | General Electric | Nissan |
| Financial Services | Centum |   |
| FMCG | P&G | East African Breweries |
| IGO | World Bank | International Finance Corporation |
| Information Technology | Microsoft | Cisco |
| Media & Communications | DSTv | Vodafone |
| Mining | De Beers | bhp billiton |
| Oil & Gas | Total | Shell |
| Payments Technology | Visa | Mastercard |
| Pharmaceuticals | AstraZeneca |   |
| Professional Services | McKinsey & Company | Accenture |
Find out more about how Careers in Africa Employer of Choice can help you by clicking the link below.
Employer of Choice Services 2015
[1] Towers Watson Global Workforce Study May 2014