News Release
Careers in Africa at Harvard Business School
March 2011
Over 900 business and community leaders, company executives, students and educators from around the world who are passionate about Africa congregated in Boston on 18 – 19 February for the 13th Annual Africa Business Conference hosted at Harvard Business School. The event which ran under the theme "Your African Legacy: Defining the Contribution of the Next Generation" provided a platform for discussion and debate on how those who are looking to engage with the continent can actively partake in the creation of an African legacy.
The conference organisers adapted a famous quote in order to get the point across; "a different Africa cannot be built by indifferent people". This was a pertinent call for all conference participants to stay informed, be active in their quest for knowledge, maintain connections with and regularly visit the continent. They were also encouraged to engaging with Africa during the course of their careers. The Careers in Africa team was therefore at hand to speak to African graduates and professionals looking to launch their career back home.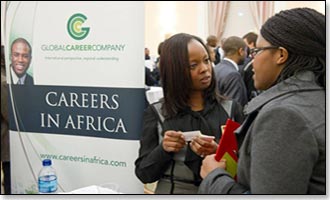 Conference participants were remarkably bullish about their career prospects across Africa. A survey conducted by the Careers in Africa team reveals that 35% of respondents were looking to move back home in 2011 and a further 29% were looking to move within one to two years. When asked about the key drivers for looking to work in Africa, 'opportunities to fast track my career' was the leading response. 'Africa's growing economy' was ranked second whilst 'returning home to family' and 'the ability to apply international knowledge to local markets' came joint third. Incidentally, 'financial incentives' and 'giving back' were ranked last.
These findings supported the notions of renewed interest in opportunities across the continent and a strong desire by African Diaspora to return home. The landscape is certainly changing across Africa; it is not only an emerging market, it is also gaining prominence as an employment centre location.