Updated for 2016: The 11th Reason – We now guarantee your hires.
By Lindsay Storie, Events Manager
---
Running dozens of Summits and working with our clients and candidates over 14 years, we've built an understanding of the factors that make our Summits what they are – the best African recruitment events in the world.
Here are the reasons all at once, and you can read on to see how they set Careers in Africa Recruitment Summits apart:
You are Not Buying an Event
The Recruitment Process
The Global Talent Pool
Flexible Participation Packages & World Tours
Track Record & Reputation
Client Experience
The Passion of Our Events Team
The Expertise of Our Regional Recruiters
Positivity and Professionalism
The Summit Swing
You are Not Buying an Event
People talk about attending career fairs. These Summits aren't career fairs. There is an exhibition and the Summits are filled with people seeking the best career opportunities in Africa, but the similarities end there. The main thing that separates our Summits from career fairs, and from recruitment events in general, is that our clients and candidates aren't actually 'buying' the event at all. What's on offer is in fact a recruitment process, run by regional recruitment specialists and taken part in by top employers and candidates. It just happens to be focused into an event scenario, but it's this process that is really on offer.
The Recruitment Process
For two reasons. First, Careers in Africa Recruitment Summits feature, at their core, a robust recruitment process including sourcing, pre-selection, selection (face to face interviews, the exhibition & spontaneous) and even offers on the day. Second, that process is fully customisable to your recruitment needs and methods. We build your participation around the recruitment process you want. If you want an assessment centre, we run one. If you want to pipeline candidates only, that's what we do for you. If you want to offer and fill 10 roles during the weekend, we direct the process to that goal.
The Global Talent Pool
The differentiator at the core of all of our recruitment services, our Global Talent Pool is a network of 500,000 graduates and professionals around the world and our means of attracting more through our 20,000 sourcing channels. Wherever you join us for a Summit, the word of your employer brand and opportunities will be spread through our Global Talent Pool, so you can recruit the best of it.
Flexible Participation Packages & World Tours
Much the same as a customised process is at the heart of our Summits, customised participation packages are also key. Whether you prefer fixed fee or recruitment fees, whether you want to sponsor or go under the radar, there is a participation package to suit. Anticipating that you want the best of the Global Talent Pool worldwide, we also offer you the chance to join us at a series of Summits, with your participation package customised per location throughout.
Track Record & Reputation
Careers in Africa Recruitment Summits are the original and the best. In a consortium event, this fact, and other employers' and candidates' knowledge of it, is of paramount importance. We've recruited more than 7,500 professionals back into Africa across 45 countries. These numbers attract the best, making for the best events.
Client Experience
Much the same as we differentiate from other events in terms of process, we also differ in the client experience and service. You should expect a high-touch service throughout from your Recruitment Summit supplier. With Careers in Africa, you'll get one.
The Passion of Our Events Team
Our experienced events team has been delivering Careers in Africa Recruitment Summits around the world for a decade between them. Their experience in handling our clients' and candidates' requirements is superseded only by their passion. We love what we do and every client participation at every Summit is an opportunity to show that.
The Expertise of Our Regional Recruiters
23 nationalities, speaking 21 languages, drawing on a wealth of experience in African recruitment. Our team has what we put in the strapline – International Perspective, Regional Understanding. This is what allows us to deliver on a multitude of client requirements at each Summit, across all levels. As much as our customised recruitment process, it's our team of specialist recruiters that set our Summits on a different level from other recruitment events.
Positivity and Professionalism
The way your project is handled by our team, the way our candidates conduct themselves but most importantly the atmosphere around any Careers in Africa Recruitment Summit. The story of opportunities in Africa is a positive one, generating great feeling and a powerful message. It's also a deeply professional environment, with the focus on a serious recruitment process, for serious employers and professionals.
The Summit Swing
The Swing is our ongoing commitment to your recruitment needs. We are confident of delivering significant ROI on your Summit participation. To further ensure you are supported though, in the months after a Summit is completed, we support our clients with a contingency search service delivered by our retained-only Search and Selection team. For months after the Summit, it's clear that you didn't just buy an event.
Guaranteed Hires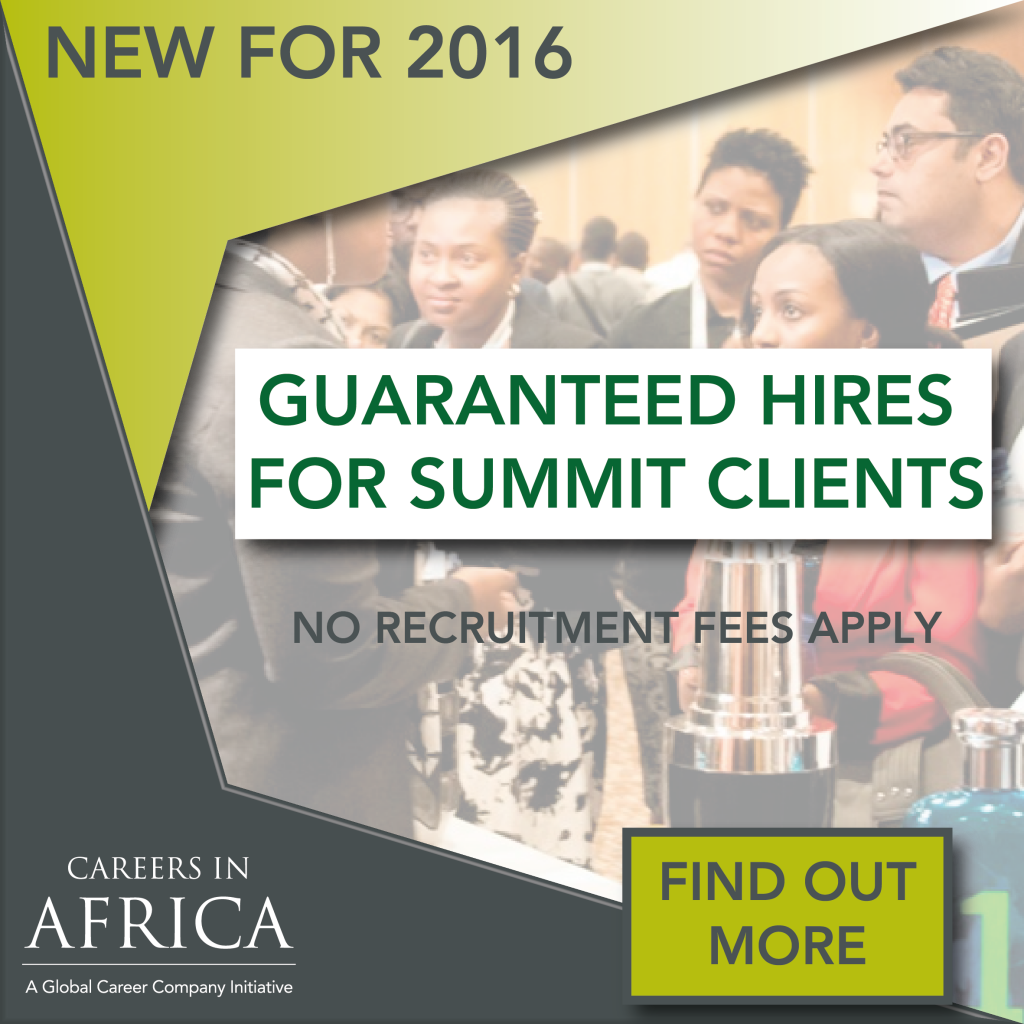 We are so confident in our recruitment process and team that we will guarantee a number of hires you will make from the Summit. We hope this gives you the confidence to plan ahead and join us at Summits, knowing your ROI is guaranteed.