Client Profile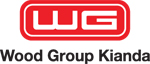 Wood Group Kianda is an Angolan joint venture established in late 2010 to serve the Angola oil & gas market, and combines the strength of its Angolan partner with the global expertise of Wood Group.
Through the joint venture, we provide engineering, procurement, construction management, operations & maintenance, and other support services for our customers' offshore and onshore facilities, including process plants, topsides, subsea developments, pipelines and risers.
With a focus on our long-term commitment to Angola, we apply our global expertise to enhance the Angolan supply chain capability and capacity, and recruit Angolans to develop their skills and provide opportunities for career development.
Wood Group Kianda is supported operationally by sister businesses Wood Group Mustang, Wood Group Kenny and Wood Group PSN.
Wood Group is an international energy services company with $5.5bn sales, employing more than 38,000 people worldwide and operating in 50 countries. The Group has three businesses—Engineering, Wood Group PSN and Wood Group GTS—providing a range of engineering, production support, maintenance management and industrial gas turbine overhaul and repair services to the oil & gas, and power generation industries worldwide.
---
A Wood Group Kianda é uma joint-venture estabelecida em finais de 2010 com o intuito de servir o mercado de exploração e produção de petróleo e gás em Angola, unindo-se aos conhecimentos globais do seu sócio angolano Wood Group.
Através desta joint-venture conjunta, fornecemos serviços de engenharia, aprovisionamento, gestão na área da construção, operações e manutenção, bem como outros serviços de apoio para as instalações offshore e onshore dos nossos clientes, incluindo unidades de processamento, superestruturas, subestruturas, dutos e risers.
Com as atenções voltadas para o nosso compromisso a longo prazo com Angola, aplicamos o nosso conhecimento global, no sentido de realçar a competência e a capacidade da cadeia de fornecimento angolana e recrutando profissionais angolanos com o objectivo de desenvolver as suas capacidades e proporcionar-lhes oportunidades de progressão na carreira.
O Wood Group Kianda é apoiado operacionalmente pelas filiais Wood Group Mustang, Wood Group Kenny e Wood Group PSN.
A Wood Group é uma empresa internacional de serviços de energia com uma facturação de 5,5 mil milhões de dólares, que emprega mais de 38 000 pessoas a nível mundial e opera em 50 países. O grupo é composto por três empresas – Engineering,  Wood Group PSN e Wood Group GTS – fornecendo uma gama de serviços de engenharia, apoio à produção, gestão de manutenção e revisão de turbinas de gás industriais, bem como serviços de reparação a indústrias de petróleo e gás e produção de energia a nível mundial. www.woodgroup.com